Please note that in order to read the entire articles you will need to log-in to the members' only section by using your username and your existing password.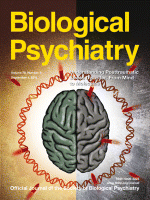 Biological Psychiatry is one of the most selective and highly cited journals in the field of psychiatric neuroscience. It is ranked 6th out of 142 Psychiatry titles and 9th out of 259 Neurosciences titles in the 2017 ISI Journal Citations Reports® published by Clarivate Analytics. The 2017 Impact Factor score for Biological Psychiatry is 11.982. Biological Psychiatry is also the first-ranked psychiatry journal according to Google Scholar (June 2017). Learn More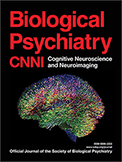 Biological Psychiatry is pleased to announce that a new spin-off journal, Biological Psychiatry: Cognitive Neuroscience and Neuroimaging (BP:CNNI) was launched in January 2016, led by its founding editor, Cameron S. Carter. This new journal publishes fundamental advances from both basic and clinical studies that provide novel insights into the relationships between brain and behavior using the tools and constructs of cognitive neuroscience and neuroimaging. BP:CNNI welcomes new submissions. Submit here: https://ees.elsevier.com/bpsc/default.asp.